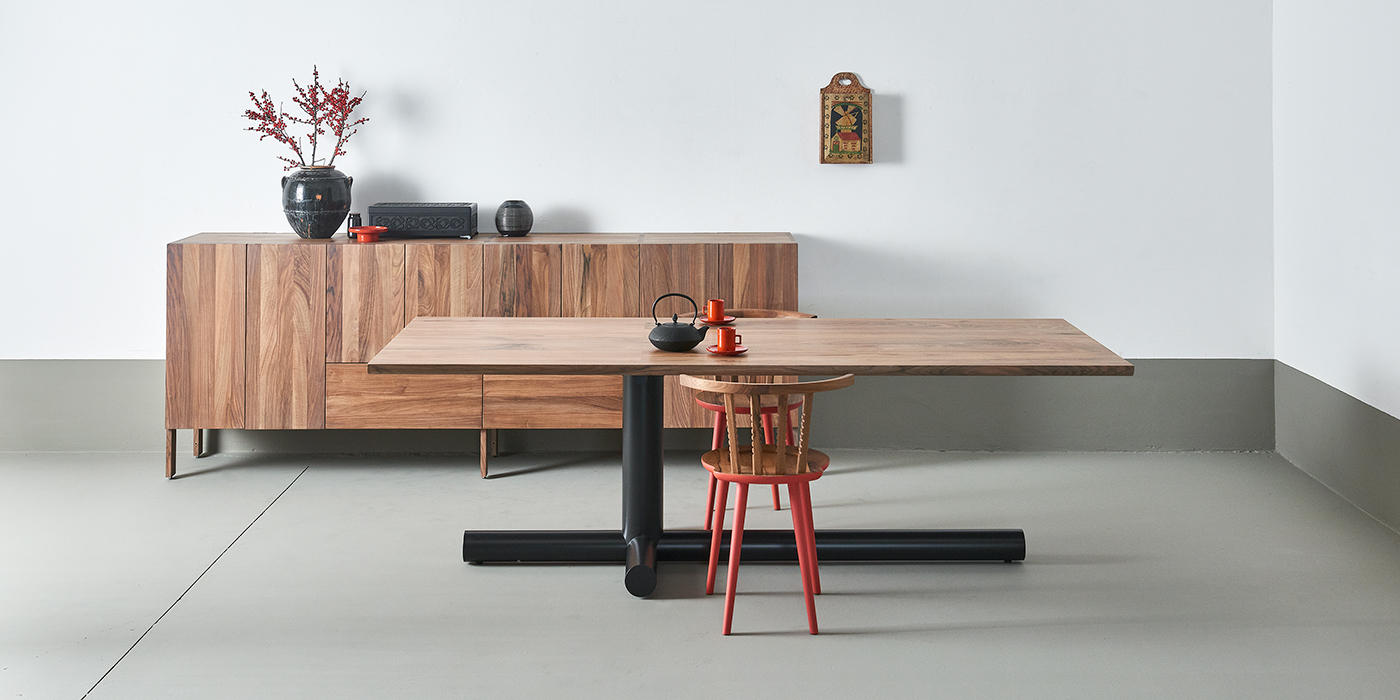 The natural oils used for Pilat&Pilat furniture enhance the structure and the colour of the wood and create a strong and abrasion-proof surface. The special composition of the oil ensures the "breathing" ability of the wood. That is the reason why the wood is resilient and durable, while it retains its natural properties.
Newly purchased Pilat&Pilat furniture that has been finished with oil requires a curing period of 8 to 10 weeks. During this period a protective layer forms over the wood. We advise you not to use the furniture intensively during this period:
• DO NOT treat your furniture with maintenance oil for the first 8 to 10 weeks.
• Protect your oiled furniture from moisture by using coasters.
By using the furniture, the oil layer can become worn. In that case you may wish to bring the furniture 'back to life' using the maintenance oil supplied (natural or
white-pigmented). The maintenance oil repairs the original film of oil and gives a silky, resilient and dirt and water resistant layer.
• Use a slightly damp cloth for everyday cleaning of the furniture.
• When using the white-pigmented maintenance oil, remember to shake the bottle (and possibly stir the fluid) to ensure the white pigment and the oil are mixed well.
Apply a small amount of maintenance oil to a cotton cloth and rub into the wood.
Allow drying for 20 minutes: rub the furniture dry with a clean cotton cloth in the direction of the wood grain. Repeat the treatment after approx. 40 minutes.
Do not use the furniture in the usual manner for 4 hours. After treatment with maintenance oil, avoid water contact with the treated areas to allow the undisturbed curing process.
Warning:
after use, remember to rinse the cotton cloth that has been used to rub in the maintenance oil and let it dry in the open air. Alternatively, dip the cloth into water, put it into a plastic bag and throw it away. That is to avoid the risk of spontaneous combustion.
You can purchase your maintenance product from your dealer or order directly in our webshop. (For foreign payments you can use online payment via SOFORT or Bancontact. We currently only ship packages to Germany, Belgium and Luxembourg. Please contact pilat@pilat.nl for shipping to other EU countries.)